Agricultural Development Bank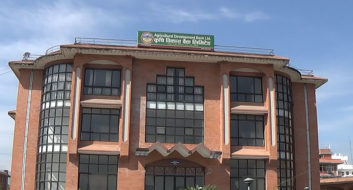 Introduction
With the main objective of providing institutional credit for enhancing the production and productivity of the agricultural sector in the country, the Agricultural Development Bank, Nepal was established in 1968 under the ADBN Act 1967, as successor to the cooperative Bank. The Land Reform Savings Corporation was merged with ADBN in 1973. Subsequent amendments to the Act empowered the bank to extend credit to small farmers under group liability and expand the scope of financing to promote cottage industries. The amendments also permitted the bank to engage in commercial banking activities for the mobilization of domestic resources.
Agricultural Development Bank Limited (ADBL) is an autonomous organization largely owned by Government of Nepal. The bank has been working as a premier rural credit institution since the last three decades, contributing a more than 67 percent of institutional credit supply in the country. Hence, rural finance is the principal operational area of ADBL. Furthermore, the bank has also been involved in commercial banking operations since 1984.
The enactment of Bank and Financial Institution Act (BAFIA) abolished all Acts related to financial institutions including the ADBN Act, 1967. In line with the BAFIA, ADBL has been incorporated as a public limited company on July 14, 2005. Thus, ADBL operates as a "A" category financial Institution under the legal framework of BAFIA and the Company Act, 2053.
Vision
To be a Mass-based Complete Bank serving from Urban to Rural.
Mission
To deliver comprehensive banking solution strengthening its extensive network.
Objective
To provide quality banking services
To adopt market driven strategy
To obtain sustained and competitive return on investment.
Corporate Conduct
In achieving its corporate objective in pursuit of its corporate mission and vision, ADBL will:
comply with all relevant legislation, codes of conduct and standards of good corporate citizenship in Nepal while maintaining full autonomy in the management of its operations;
conduct its operations in an open and transparent manner;
put local resources to work for local development, serving the rural community and its aspirations;
provide a full and balanced rage of financial products and services that satisfies the needs of the rural population of Nepal, on a profitable and sustainable basis;
strive consistently to provide improved products and services to its clients at reasonable cost, using modern banking, information and communication technology in the most appropriate form to its clients needs;
be vigorous in building reputation for professionalism, competitive pricing, reliability and quality of service and innovation;
operate in accordance with best banking practice, acting with financial prudence and keeping in mind the need to balance profitability with asset preservation and liquidity and to safeguard depositor's funds;
work together with its employees to develop their capabilities to contribute to achievement of the bank's objectives, promoting excellence, rewarding achievement and providing them the opportunity to share in the bank's success;
develop mutually acceptable relationship with government in the pursuit of improvement in living standards in rural areas, while respecting best financial practices;
ensure that its activities contribute to the environmental stability and overall improvement of living standards in Nepal; and
judge the bank's success against the measures that include profitability, portfolio quality in terms of minimal arrears and non-performing loans, portfolio worth, total deposits, geographic outreach and public image.
SAVINGS ACCOUNT
| Scheme Name | Interest % p.a. [/upto] | Minimum Deposit (NPR) | View Detail |
| --- | --- | --- | --- |
FIXED DEPOSIT ACCOUNT
| Scheme Name | Interest % p.a. [/upto] | Minimum Deposit (NPR) | View Detail |
| --- | --- | --- | --- |
| Loan Type | Min Interest % p.a. | Max Interest % p.a. | Loan Period | View Detail |
| --- | --- | --- | --- | --- |
Local Agent/
Payment Partners
Location
Contact
Inquiry
Remitance Link
No Remittance Agents
District
Branch Location
Contact No.
More Details
View Map
Rupandehi
Butwal Branch

Phone :071-545520

Fax :071-545519

Butwal, Rupandehi
butwal@fewabank.com.np

Map

Rupandehi
Bhairahawa Branch

Phone :071-527517

Fax :071-527519

Bhairahawa, Rupandehi
bhairahawa@fewabank.com.np

Map

Kaski
Lakeside Branch

Phone :061-465065

Fax :061-466010

Lakeside, Pokhara
lakeside@fewabank.com.np

Map

Bardiya
Rajapur Branch

Phone :084-420309

Fax :420309

Rajapur, Bardiya
rajapur.branch@adbl.gov.np

Map

Bardiya
Neulapur Branch

Phone :084-420902

Fax :

Neulapur, Bardiya
neulapur.branch@adbl.gov.np

Map

Banke
Nepalgunj Branch

Phone :081-524054 / 520134 / 523293

Fax :

Nepalgunj
Tribhuvan Chowk Banke
tribhuwanchowk.branch@adbl.gov.np

Map

Mugu
Mugu

Phone :087-460107

Fax :

Mugu
mugu.branch@adbl.gov.np

Map

Banke
Khujura Branch

Phone :081-560063

Fax :

Khujura, Banke
khajura.branch@adbl.gov.np

Map

Kalikot
Kalikot Branch

Phone :

Fax :

Kalikot
kalikot.branch@adbl.gov.np

Map

Jajorkot
Jajorkot Branch

Phone :

Fax :

Jajorkot
jajarkot.branch@adbl.gov.np

Map

Humla
Humla Branch

Phone :087-680012

Fax :

Humla
humla.branch@adbl.gov.np

Map

Bardiya
Gulariya Branch

Phone :084-420915 / 420085

Fax :420166

Gulariya, Bardiya
gulariya.branch@adbl.gov.np

Map

Dolpa
Dolpa Branch

Phone :087-550062

Fax :

Dolpa
dolpa.branch@adbl.gov.np

Map

Dailekh
Dailekh Branch

Phone :089-420152

Fax :420152

Dailekh
dailekh.branch@adbl.gov.np

Map

Surkhet
Surkhet Branch

Phone :083-520247

Fax :520411

Surkhet
surkhet.branch@adbl.gov.np

Map

Banke
Nepalgunj Branch

Phone :081-520008 / 5224032 / 527040

Fax :521408

Nepalgunj, Dhanboji Banke
nepalgunj.banking@adbl.gov.np

Map

Banke
Kohalpur Branch

Phone :

Fax :

Kohalpur, Banke
kohalpur.banking@adbl.gov.np

Map

Jumla
Jumla Branch

Phone :

Fax :

Jumla
jumla.branch@adbl.gov.np

Map

Surkhet
Chhinchu Branch

Phone :083-521632

Fax :

Chhinchu, Surkhet
chhinchu.branch@adbl.gov.np

Map

Kailali
Sukkhad Branch

Phone :091-524148

Fax :524148

Sukkhad, Kailali
sukhkhad.branch@adbl.gov.np

Map

Belauri
Sripur Branch

Phone :099-525027

Fax :525027

Sripur Belauri
Kanchanpur
belauri.branch@adbl.gov.np

Map

Doti
Silgadhi Branch

Phone :094-420041

Fax :420041

Silgadhi, Doti
silgadhi.branch@adbl.gov.np

Map

Achham
SanfeBagar Branch

Phone :097-625003

Fax :

SanfeBagar, Achham
sanphebagar.branch@adbl.gov.np

Map

Baitadi
Baitadi Branch

Phone :095-520166

Fax :

Patan Baitadi
patan.branch@adbl.gov.np

Map

Kailali
Hasuliya Branch

Phone :091-524297

Fax :

Hasuliya, Kailali
hasulia.branch@adbl.gov.np

Map

Kanchanpur
Dodhara Chandani Branch

Phone :099-525342

Fax :

Dodhara Chandani
Kanchanpur
dodharachadani.branch@adbl.gov.np

Map

Kailali
Dhangadhi

Phone :091-522541

Fax :522541

Dhangadhi
Campus Road, Kailali
dhangadhi.branch@adbl.gov.np

Map

Darchula
Darchula Branch

Phone :093-420166

Fax :

Darchula
darchula.branch@adbl.gov.np

Map

Dadeldhura
Dadeldhura Branch

Phone :096-420129

Fax :

Dadeldhura
dadeldhura.branch@adbl.gov.np

Map

Doti
Budar branch

Phone :094-690232

Fax :

Budar, Doti
budar.branch@adbl.gov.np

Map

Kailali
Bhajani Branch

Phone :091-580187

Fax :580166

Bhajani, Kailali
bhajani.branch@adbl.gov.np

Map

Bajura
Bajura Branch

Phone :097-541021

Fax :

Bajura
bajura.branch@adbl.gov.np

Map

Bajhang
Bajhang Branch

Phone :092-421054

Fax :

Bajhang
bajhang.branch@adbl.gov.np

Map

Kailali
Tikapur Branch

Phone :091-560166

Fax :560924

Tikapur, Kailali
tikapur.branch@adbl.gov.np

Map

Kanchanpur
Mahendranagar Branch

Phone :099-523394 / 524064

Fax :523395

Mahendranagar, Kanchanpur
mahendranagar.banking@adbl.gov.np

Map

Kanchanpur
Jhalari Branch

Phone :

Fax :

Jhalari, Kanchanpur
jhalari.banking@adbl.gov.np

Map

Kailali
Dhangadi Branch

Phone :

Fax :

Dhangadi, Ratopul, Kailali
dhangadhi.banking@adbl.gov.np

Map

Baitadi
Baitadi Branch

Phone :095-520166

Fax :520166

Baitadi
baitadi.branch@adbl.gov.np

Map

Kailali
Attariya Branch

Phone :

Fax :

Attariya, Kailali
attariya.branch@adbl.gov.np

Map

Achham
Achham Branch

Phone :097-620166

Fax :

Achham, Mangalsen
mangalsen.branch@adbl.gov.np

Map

Argakhachhi
Thada Branch

Phone :077 -429314

Fax :

Thada, Argakhachhi
thada.branch@adbl.gov.np

Map

Palpa
Rampur Branch

Phone :075-521740

Fax :

Rampur, Palpa
rampur.branch@adbl.gov.np

Map

Nawalparasi
Rajahar Branch

Phone :078-540028

Fax :540028

Rajahar, Nawalparasi
rajahar.branch@adbl.gov.np

Map

Palpa
Palpa Branch

Phone :075-520142

Fax :520309

Palpa, Tansen Palpa
tansen.branch@adbl.gov.np

Map

Rupandehi
Majigawa

Phone :071-527907

Fax :

Majgaun, Rupandehi
majhganwa.branch@adbl.gov.np

Map

Rupandehi
Lumbini Branch

Phone :071-20681

Fax :

Lumbini, Rupandehi
lumbini.branch@adbl.gov.np

Map

Kapilbastu
Krishnanagar Branch

Phone :076-520025

Fax :520014

KrishnaNagar, Kapilbastu
krishnanagar.branch@adbl.gov.np

Map

Gulmi
Juhan Ridi Branch

Phone :071-694541

Fax :

Juhan Ridi, Gulmi
ridhi.branch@adbl.gov.np

Map

Kapilbastu
Jitpur Branch

Phone :076-560871

Fax :560948

Jitpur 4 No, Kapilbastu
jitpurkvastu.branch@adbl.gov.np

Map

Rupandehi
Dhakadahi Branch

Phone :071-522830 / 621905

Fax :

Dhakadahi,Rupandehi
dhakdhai.branch@adbl.gov.np

Map

Rupandehi
Dayanagar Branch

Phone :071-522456

Fax :522456

Dayanagar, Chhapiya
Rupandehi
dayanagar.branch@adbl.gov.np

Map

Nawalparasi
Chormara

Phone :078-540007

Fax :540007

Chormara, Kawasoti
Nawalparasi
kawasoti.branch@adbl.gov.np

Map

Rupandehi
Bhairahawa

Phone :071-521445

Fax :522562

Bhairahawa
Lumbini Road, Rupandehi
bhairahawa.branch@adbl.gov.np

Map

Kapilbastu
Taulihawa Branch

Phone :076-560527

Fax :560526

Taulihawa Kapilbastu
taulihawa.banking@adbl.gov.np

Map

Gulmi
Tamghas Branch

Phone :Phone: 079-520166

Fax :Fax: 520455

Tamghas, Gulmi tamghas.branch@adbl.gov.np

Map

Rupandehi
Siddharthanagar Branch

Phone :071-520625 / 526625 / 527625

Fax :520250

Siddharthanagar
Devkota Chok Rupandehi
bhairahawa.banking@adbl.gov.np

Map

Argakhachhi
Sandhikharka Branch

Phone :077-420166

Fax :420273

Sandhikharka, Argakhachhi
sandhikharka.branch@adbl.gov.np

Map

Rupandehi
Parroha Branch

Phone :071-546798

Fax :541169

Parroha, Rupandehi
paroha.branch@adbl.gov.np

Map

Nawal Parasi
Parasi Branch

Phone :078-520166

Fax :520239

Parasi, Nawal Parasi
parasi.banking@adbl.gov.np

Map

Rupandehi
Butwal Branch

Phone :071-542746 / 541310

Fax :540567

Butwal, Traffic Chok
Rupandehi
butwal.banking@adbl.gov.np

Map

Nawal Parasi
Bardaghat Branch

Phone :078-580606 / 580456

Fax :580305

Bardaghat, Nawal Parasi
bardaghat.branch@adbl.gov.np

Map

Rukum
Musikot Branch

Phone :088-649097

Fax :

Musikot, Rukum
rukum.branch@adbl.gov.np

Map

Pyuthan
Bhingri Branch

Phone :

Fax :

Bhingri, Pyuthan
banking.bhingri@adbl.gov.np

Map

Salyan
Salyan Branch

Phone :088-520003

Fax :520003

Salyan
salyan.branch@adbl.gov.np

Map

Syanjha
Waling Branch

Phone :063-440115 / 440386

Fax :

Waling, Syanjha
walling.branch@adbl.gov.np

Map

Tanahu
Ramghatar Branch

Phone :065-560180

Fax :

Ramghatar, Bhorletar, Tanahu
bhorletar.branch@adbl.gov.np

Map

Gorkha
Palungtar Branch

Phone :064-420460

Fax :

Palungtar, Gorkha
palungtar.branch@adbl.gov.np

Map

Tanahu
Khairinitar branch

Phone :065-561312

Fax :

Khairinitar, Tanahu
khairenitar.branch@adbl.gov.np

Map

Tanahu
Dumre Branch

Phone :065-561311

Fax :

Dumre, Sepabagaicha
dumre.branch@adbl.gov.np

Map

Syanja
Syanja Branch

Phone :063-420200

Fax :420400

Syanja
syangja.banking@adbl.gov.np

Map

Gorkha
Gorkha Branch

Phone :064-421369

Fax :420166

Gorkha
gorkha.branch@adbl.gov.np

Map

Syanjha
Galyang Branch

Phone :Phone: 063-460279

Fax :

Galyang, Syanjha
galyang.branch@adbl.gov.np

Map

Kaski
Gagangauda Branch

Phone :061-539260

Fax :539259

Gagangauda, Talchok Kaski
gagangauda.branch@adbl.gov.np

Map

Tanahu
Damauli Branch

Phone :065-560166

Fax :560586

Damauli, Tanahu
damauli.branch@adbl.gov.np

Map

Kaski
Chipaledhunga Branch

Phone :

Fax :

Chipaledhunga, Pokhara , Kaski
chipledh.branch@adbl.gov.np

Map

Lamjung
Bhotewodar Branch

Phone :066-520453

Fax :

Bhotewodar, Lamjung
bhotewodar.branch@adbl.gov.np

Map

Kaski
Bagar Branch

Phone :061-528883

Fax :

Bagar,Kaski
bagar.branch@adbl.gov.np

Map

Gorkha
Arughat Branch

Phone :064-420460

Fax :

Arughat, Gorkha
aarughat.branch@adbl.gov.np

Map

Solukhumbu
Salleri Branch

Phone :Phone: 038-520209

Fax :Fax: 520209

Salleri, Solukhumbu
salleri.branch@adbl.gov.np

Map

Ramechhap
Manthali Branch

Phone :048-540030

Fax :540030

Ramechhap, Manthali
ramechhap.branch@adbl.gov.np

Map

Sindhupalchok
Melamchi Branch

Phone :016-218408

Fax :

Melamchi, Sindhupalchok
melamchi.branch@adbl.gov.np

Map

Lalitpur
Lele Branch

Phone :01-5570671

Fax :

Lele, chapagaon Lalitpur
chapagau.branch@adbl.gov.np

Map

Nuwakot
Khiranitar Branch

Phone :010-560711

Fax :

Khiranitar, Nuwakot
kharanitar.branch@adbl.gov.np

Map

Dhading
Khanikhola Branch

Phone :010-620002

Fax :620002

Khanikhola, Dhading
khanikhola.branch@adbl.gov.np

Map

Dhading
Katunje Branch

Phone :010-520335

Fax :

Katunje, Dhading
katunje.branch@adbl.gov.np

Map

Dhading
Gajuri Branch

Phone :010-529172

Fax :529172

Gajuri, Dhading
gajuri.branch@adbl.gov.np

Map

Nuwakot
Dhunche Branch

Phone :010-540166

Fax :

Dhunche, Nuwakot
dhunche.sbranch@adbl.gov.np

Map

Kavre
Dhulikhel Branch

Phone :011-660368 / 490468

Fax :490368

Dhulikhel, Kavrepalanchok
Email: dhulikhel.branch@adbl.gov.np

Map

Dolkha
Charikot Branch

Phone :049-421166

Fax :421166

Charikot, Dolkha
Email: charikot.branch@adbl.gov.np

Map

Sindhupalchok
Barhabise Branch

Phone :011-489016

Fax :

Barhabise, Sindhupalchok
barbise.branch@adbl.gov.np

Map

Nuwakot
Trishuli branch

Phone :010-560125

Fax :560126

Trishuli, Nuwakot
trishuli.branch@adbl.gov.np

Map

Kathmandu
Tripureshwor Branch

Phone :01-4249426 / 4260905

Fax :4260646

Tripureshwor, Kathmandu
tripureswor.banking@adbl.gov.np

Map

Kathmandu
Swoyambhu Branch

Phone :01-4302141 / 4280835

Fax :4281185

Swoyambhu, Kathmandu
swyambhu.banking@adbl.gov.np

Map

Kathmandu
Sankhu Branch

Phone :01-4493760

Fax :

Sankhu, Kathmandu
sankhu.branch@adbl.gov.np

Map

Bhaktapur
Sallaghari Branch

Phone :01-6612041 / 6610052

Fax :6612041

Sallaghari, Bhaktapur
sallaghari.branch@adbl.gov.np

Map

Kathmandu
Ratnapark Branch

Phone :01-4242175 / 4225570 / 4225570 / 4231020

Fax :4223061

Ratnapark, Kathmandu
ratnapark.banking@adbl.gov.np

Map

Nuwakot
Ranipauwa Branch

Phone :010-560125

Fax :560126

Ranipauwa, Nuwakot
ranipauwa.branch@adbl.gov.np

Map

Lalitpur
Pulchok Branch

Phone :01-5011659 / 5537401

Fax :5537536

Pulchok, Kan Devta Lalitpur
pulchowk.banking@adbl.gov.np

Map

Kavre
Panchkhal Branch

Phone :

Fax :

Panchkhal , Kavrepalanchok
panchkhal.branch@adbl.gov.np

Map

Kathmandu
Naya Baneshwor Branch

Phone :01-4781795 / 4782979

Fax :4781808

Naya Baneshwor, Kathmandu
nayabaneswor.banking@adbl.gov.np

Map

Lalitpur
Mangalbazar Branch

Phone :01-5538250 / 5553352 / 5438844

Fax :

Mangalbazar, Lalitpur Email: mangalbazar.banking@adbl.gov.np

Map

Kathmandu
Maitidevi Branch

Phone :01-4418539

Fax :4420367

Maitidevi, Kathmandu
maitidevi.banking@adbl.gov.np

Map

Kathmandu
Maharajgunj Branch

Phone :01-4373813 / 4374879

Fax :4374747

Maharajgunj, Kathmandu
maharajgunj.banking@adbl.gov.np

Map

Kathmandu
Koteshwor Branch

Phone :01-4600983

Fax :4600984

Koteshwor, Kathmandu
koteswor.banking@adbl.gov.np

Map

Kathmandu
Kirtipur Branch

Phone :Phone: 01-4333255

Fax :Fax: 4331200

Kirtipur, Kathmandu kritipur.banking@adbl.gov.np

Map

Kathmandu
Kapan Branch

Phone :

Fax :

Kapan, Kathmandu
kapan.branch@adbl.gov.np

Map

Kathmandu
Kamalpokhari

Phone :01-4424049 / 4442164

Fax :4442164

Kamalpokhari, Kathmandu kamalpokhari.bank @adbl.gov.np

Map

Kathmandu
Kalanki Branch

Phone :01-4272022

Fax :4272023

Kalanki, Kathmandu
kalanki.banking@adbl.gov.np

Map

Kathmandu
Jorpati Branch

Phone :01-4492526

Fax :4492527

Jorpati, Kathmandu
Email: jorpati.banking@adbl.gov.np

Map

Bhaktapur
Gathaghar Branch

Phone :Phone: 01-6634439

Fax :Fax: 6631234

Gathaghar, Bhaktapur
thimi.banking@adbl.gov.np

Map

Dhadingbesi
Dhading Branch

Phone :010-520336

Fax :520166

Dhading
dhading.branch@adbl.gov.np

Map

Sindhupalchok
Chautara Branch

Phone :Phone: 011-620119

Fax :Fax: 620137

Chautara, Sindhupalchok
chautara.branch@adbl.gov.np

Map

Kathmandu
Budhanilkantha

Phone :01-4371642

Fax :4376634

Budhanilkantha, Kathmandu
budhanilkantha.branch @adbl.gov.np

Map

Bhaktapur
Bode Branch

Phone :

Fax :

Bode, Bhaktapur
mpurthimi.branch@adbl.gov.np

Map

Bhaktapur
Bhaktapur Branch

Phone :01-6613565

Fax :6611945

Bhaktapur,Dudhpati
dudhpati.banking@adbl.gov.np

Map

Kavre
Banepa Branch

Phone :011-662702

Fax :662703

Banepa, Kavrepalanchok
banepa.banking@adbl.gov.np

Map

Kathmandu
Balaju Branch

Phone :01-4364561 / 350375

Fax :4351600

Balaju, Kathmandu
balaju.branch@adbl.gov.np

Map

Kathmandu
Chabahil Branch

Phone :01-4470042 / 4466565

Fax :4474757

Chabahil, Kathmandu
chabahil.banking@adbl.gov.np

Map

Kathmandu
Thamel Branch

Phone :01-4256395 / 4256928

Fax :4265097

Thamel, Kathmandu
thamel.banking@adbl.gov.np

Map

Kathmandu
Putalisadak Branch

Phone :01-4421568 / 4410874

Fax :4415908

Putalisadak, Kathmandu
putlisadak.banking@adbl.gov.np

Map

Kathmandu
Old Baneshwor Branch

Phone :01-4497683 / 4472180

Fax :4474702

Old Baneshwor,Gaushala
Battisputali, Kathmandu
gausala.banking@adbl.gov.np

Map

Kathmandu
New Road Branch

Phone :01-4223468 / 4224673 / 241626

Fax :4220314

New Road, Kathmandu
newroad.banking@adbl.gov.np

Map

Lalitpur
Lagankhel Branch

Phone :01-5521153 / 5544978

Fax :5527758

Lagankhel, Near to Patan Hospital
Lalitpur
lagankhel.banking@adbl.gov.np

Map

Kathmandu
Kalimati Branch

Phone :01-4283038 / 4275168

Fax :4270284

Kalimati, Kathmandu
kalimati.banking@adbl.gov.np

Map

Parsa
Pokhariya Branch

Phone :051-532241

Fax :

Pokhariya, Parsa
pokhariya.branch@adbl.gov.np

Map

Chitwan
Parsa khairahani

Phone :056-583178, 583227

Fax :056-583177

Parsa khairahani, Chitwan
khairhani.branch@adbl.gov.np

Map

Makawanpur
Palung

Phone :057-522868

Fax :522868

Palung, Makawanpur
palung.branch@adbl.gov.np

Map

Bara
Nijgadh Branch

Phone :053-540353

Fax :540353

Nijgadh, Bara
nijgadh.branch@adbl.gov.np

Map

Chitawan Branch
Madi

Phone :056-528758

Fax :528758

Madi, Chitawan
madi.branch@adbl.gov.np

Map

Makawanpur
Hetauda Branch

Phone :057-520338

Fax :521393

Hetauda, Kantiraj Path
Makawanpur
hetauda.branch@adbl.gov.np

Map

Chitawan
Gunjnagar Branch

Phone :056-527728

Fax :527728

GunjNagar, Chitawan
gunjanagar.branch@adbl.gov.np

Map

Rautahath
Gaur

Phone :055-520116

Fax :520255

Gaur, Rautahath
gaur.branch@adbl.gov.np

Map

Rautahath
Garuda Branch

Phone :055-565116

Fax :565116

Garuda, Rautahath
garuda.branch@adbl.gov.np

Map

Parsa
Debarwana Branch

Phone :051-531290

Fax :

Debarwana, Parsa
debarbana.branch@adbl.gov.np

Map

Bara
Bariyapur

Phone :053-511001

Fax :511001

Bariyapur, Bara
bariyarpur.branch@adbl.gov.np

Map

Bara
Amritgunj Branch

Phone :053-551066

Fax :551066

Amritgunj, Bara
amritgunj.branch@adbl.gov.np

Map

Chitwan
Tandi

Phone :056-560904

Fax :560904

Tandi, Chitwan
tandi.banking@adbl.gov.np

Map

Bara
Simara

Phone :053-520094 / 520115

Fax :

Simara, Bara
simara.branch@adbl.gov.np

Map

Chitawan
Sauraha

Phone :

Fax :

Sauraha, Chitawan
banking.sauraha@adbl.gov.np

Map

Chitawan
Narayanghadh Branch

Phone :Phone: 056-522368 / 520454

Fax :Fax: 521997

Narayanghadh, Pulchok Chitawan
narayanghat.banking@adbl.gov.np

Map

Bara
Kalaiya

Phone :053-550259

Fax :550011

Kalaiya, Bara
kalaiya.branch@adbl.gov.np

Map

Makawanpur
Hetauda

Phone :057-523393

Fax :525056

Hetauda, Makawanpur
hetauda.banking@adbl.gov.np

Map

Rautahath
Chandranigahapur

Phone :055-540211

Fax :540211

Chandranigahapur, Rautahath
chandranigahapur.branch@adbl.gov.np

Map

Parsa
Birgunj

Phone :051-528501 / 521601 / 533988

Fax :523098

Birgunj, Ghantaghar Birgunj
birgunj.banking@adbl.gov.np

Map

Chitawan
Bharatpur

Phone :056-528709 / 52653

Fax :521831

Bharatpur, Hakim Chok Chitawan
bharatpur2.banking@adbl.gov.np

Map

Chitawan
Bharatpur

Phone :056-520112 / 521612

Fax :521831

Bharatpur, Chitawan
bharatpur.banking@adbl.gov.np

Map

Sindhuli
Sindhuli

Phone :047-520146 / 520631

Fax :520632

Sindhuli

Map

Dhanusa
Sabela Branch

Phone :041-526994

Fax :

Sabela, Dhanusa
sabela.branch@adbl.gov.np

Map

Sarlahi
Nawalpur

Phone :046-570142 / 657006

Fax :570142

Sarlahi , Nawalpur
nawalpur.branch@adbl.gov.np

Map

Sarlahi
Malangawa

Phone :046-520176

Fax :520176

Malangawa, Sarlahi
malangawa.branch@adbl.gov.np

Map

Dhanusa
Loharpatti Branch

Phone :041-527100

Fax :

Loharpatti, Dhanusa
loharpatti.branch@adbl.gov.np

Map

Dhanusa
Lagmangarain branch

Phone :041-527101 / 528101

Fax :

Lagmangarain, Dhanusa
nagarain.branch@adbl.gov.np

Map

Dhanusa
Khajuri

Phone :041-526383

Fax :

Khajuri, Dhanusa Email: khajuri.branch@adbl.gov.np

Map

Dhanusa
Janakpur

Phone :041-520405 / 522889 / 524889

Fax :520405

Janakpur, Dhanusa
janakpur.branch@adbl.gov.np

Map

Mahottari
Jaleshwor Branch

Phone :044-520457 / 520012

Fax :521049

Jaleshwor, Mahottari
jaleswor.branch@adbl.gov.np

Map

Mahottari
Gaushala Branch

Phone :044-520783

Fax :

Gaushala, Mahottari
Email: gaushala.branch@adbl.gov.np

Map

Dhanusa
Dhalkebar

Phone :041-560101

Fax :560007

Dhalkebar, Dhanusa Email: dhalkewar.branch@adbl.gov.np

Map

Sarlahi
Barhathwa Branch

Phone :046-520981

Fax :

Barhathwa, Sarlahi
barahathawa.branch@adbl.gov.np

Map

Mahottari
Bardibas Branch

Phone :044-550009

Fax :

Mahottari, Bardibas
gauribash.branch@adbl.gov.np

Map

Mahottari
Balawa

Phone :

Fax :

Balawa,Mahottari
balawa.branch@adbl.gov.np

Map

Dhanusa
Shiva Chock

Phone :041-522943 / 524013

Fax :522667

Janakpur, Shiva Chock, Dhanusa Email: janakpur.banking@adbl.gov.np

Map

Sarlahi
Ishworpur

Phone :046-520839

Fax :

Ishworpur, Sarlahi
Email: ishworpur.branch@adbl.gov.np

Map

Siraha
Sukhipur

Phone :033-561947

Fax :

Sukhipur, Siraha
Email: sukhipur.branch@adbl.gov.np

Map

Okhaldhunga
Okhaldhunga

Phone :037-520118

Fax :520118

Okhaldhunga
Email: okhaldhunga.branch@adbl.gov.np

Map

Siraha
Mirchaiya

Phone :033-550348

Fax :550005

Mirchaiya, Siraha
Email: mirchaya.branch@adbl.gov.np

Map

Siraha
Lahan Branch

Phone :033-560147

Fax :560302

Lahan, Siraha
Email: lahan.banking@adbl.gov.np

Map

Udaypur
Katari

Phone :035-550307

Fax :

Katari, Udaypur
Email: katari.branch@adbl.gov.np

Map

Saptari
Kanchhanpur

Phone :031-560474

Fax :560077

Kanchhanpur, Saptari
Email: kanchanpur.branch@adbl.gov.np

Map

Saptari
Kalyanpur

Phone :031-522498

Fax :

Kalyanpur, Saptari
Email: kalyanpur.branch@adbl.gov.np

Map

Saptari
Hanuman Nagar Branch

Phone :031-580077

Fax :

Hanuman Nagar, Saptari
Email: hanumannagar.branch@adbl.gov.np

Map

Siraha
Golbazar Branch

Phone :

Fax :

Golbazar
golbajar.branch@adbl.gov.np

Map

Udaypur
Gaighat Branch

Phone :035-420096

Fax :420166

Gaighat, Udaypur
Email: gaighat.branch@adbl.gov.np

Map

Khotang
Diktal Branch

Phone :036-420166

Fax :420166

Diktal, Khotang
diktel.branch@adbl.gov.np

Map

Saptari
Bodebarsaien

Phone :031-520750

Fax :

Bodebarsaien, Saptari
Email: bodebarsain.branch@adbl.gov.np

Map

Udaypur
Beltar Branch

Phone :031-560329

Fax :

Beltar, Udaypur
Email: beltar.branch@adbl.gov.np

Map

Siraha
Siraha Branch

Phone :033-520470

Fax :520070

Siraha
Email: siraha.branch@adbl.gov.np

Map

Terhthum
Terhthum

Phone :026-460313

Fax :460166

Terhthum
Email: terhathum.branch@adbl.gov.np

Map

Taplejung
Taplejung Branch

Phone :024-460166

Fax :460166

Taplejung
taplejung.branch@adbl.gov.np

Map

Morang
Rangeli Branch

Phone :021-580349

Fax :580049

Rangeli, Morang
Email: rangeli.branch@adbl.gov.np

Map

Sunsari
Ramgunj

Phone :021-524038

Fax :

Rajgunj, Sunsari
Email: ramganj.branch@adbl.gov.np

Map

Panchathar
Phidim

Phone :024-520166 / 520466

Fax :520166

Phidim, Panchathar
Email: phidim.branch@adbl.gov.np

Map

Sunsari
Laukahi

Phone :025-560840

Fax :560840

Laukahi, Sunsari
Email: laukahi.branch@adbl.gov.np

Map

Sankhuwasabha
Khandbari

Phone :029-560166

Fax :560166

Khandbari, Sankhuwasabha
Email: khandbari.branch@adbl.gov.np

Map

Morang
Jhurkia Branch

Phone :021-580149

Fax :

Jhurkia, Morang
Email: jhurkiya.branch@adbl.gov.np

Map

Sunsari
Inruwa

Phone :025-560108

Fax :560141

Sunsari
inruwa.branch@adbl.gov.np

Map

Morang
Indrapur

Phone :025-584085

Fax :584085

Indrapur
Biratchok, Morang
Email: indrapur.branch@adbl.gov.np

Map

Sunsari
Harinagara

Phone :025-561112

Fax :561112

Harinagara, Sunsari
harinagara.branch@adbl.gov.np

Map

Morang
Dhulabari Branch

Phone :023-560166 / 560277

Fax :560166

Dhulabari, Morang
Email: dhulabari.branch@adbl.gov.np

Map

Dhankuta
Dhankuta Branch

Phone :026-520421

Fax :520416

Dhankuta
dhankuta.branch@adbl.gov.np

Map

Jhapa
Damak Branch

Phone :023-580096 / 580471

Fax :580104

Damak, Jhapa
Email: damak.branch@adbl.gov.np

Map

Sankhuwasabha
Chainpur

Phone :029-570166

Fax :570166

Chainpur, Sankhuwasabha
chainpur.branch@adbl.gov.np

Map

Bhojpur
Bhojpur Branch

Phone :029-420166

Fax :420166

Bhojpur
Email: bhojpur.branch@adbl.gov.np

Map

Jhapa
Bhadrapur

Phone :023-455281 / 455057

Fax :455331

Bhadrapur, Jhapa
Email: bhadrapur.branch@adbl.gov.np

Map

Morang
Urlabari Branch

Phone :021-540478

Fax :540478

Urlabari, Morang Email: urlabari.branch@adbl.gov.np

Map

Morang
Tinpaini Branch

Phone :021-524260 / 534530

Fax :528317

Tinpaini
Biratnagar Morang
Email: tinpaini.banking@adbl.gov.np

Map

Jhapa
Surunga Branch

Phone :

Fax :

Jhapa
Email: surunga.branch@adbl.gov.np

Map

Ilam
Phikal Branch

Phone :

Fax :

Phikal Ilam
Email: phikkal.branch@adbl.gov.np

Map

Morang
Netachok Branch

Phone :021-523934

Fax :525149

Morang
Email: b.netachowk@adbl.gov.np

Map

Ilam
Mangalbare Branch

Phone :027-520836

Fax :214335

Mangalbare, Ilam Email: mangalbare.branch@adbl.gov.np

Map

Morang
Kanchanbari Branch

Phone :021-522368

Fax :522438

Biratnagar, Morang
Email: kanchanbari.banking@adbl.gov.np

Map

Sunsari
Itahari Branch

Phone :025-582750 / 582566

Fax :582749

Itahari, Sunsari
Email: itahari.banking@adbl.gov.np

Map

Ilam
Ilam Branch

Phone :027-521433 / 520096

Fax :214335

Ilam
Email: ilam.branch@adbl.gov.np

Map

Jhapa
Gauradaha

Phone :

Fax :

Gauradaha, Jhapa
Email: gauradaha.branch@adbl.gov.np

Map

Sunsari
Duhabi

Phone :025-540702

Fax :540702

Duhabi, Sunsari
Email: duhabi.branch@adbl.gov.np

Map

Sunsari
Dharan

Phone :025-526572

Fax :526571

Dharan, Sunsari
Email: dharan.banking@adbl.gov.np

Map

Jhapa
Birtamod Branch

Phone :023-543177 / 541283 / 540966

Fax :541282

Birtamod, Jhapa
Email: birtamod.banking@adbl.gov.np

Map

Banke
Nepalgunj Branch

Phone :081-520015 / 522073

Fax :520960

Regional Office, Nepalgunj
Dhambojhi, Nepalgunj
Email: nepalgunj.ro@adbl.gov.np

Map

Kailali
Dhangadhi

Phone :091-521210 / 522451

Fax :522254

Regional Office,Dhangadhi

Map

Rupandehi
Bhairahawa Branch

Phone :071-520146 / 520631 / 527490

Fax :520632

Regional Office,Bhairahawa
Email: bhairahawa.ro@adbl.gov.np

Map

Kaski
Pokhara Branch

Phone :061-528445 / 520458 / 520156

Fax :521107

Regional Office,Pokhara
Email: pokhara.ro@adbl.gov.np

Map

Kathmandu
Gausala Branches

Phone :01-4499256 / 4485467 / 4476282

Fax :4481283

Regional Office,Kathmandu
Gausala, Kathmandu

Map

Parsa
Birgunj

Phone :051-525208 /522130/522185

Fax :521900

Regional Office,Birgunj
Email: birgunj.ro@adbl.gov.np

Map

Dhanusa
Janakpur Branch

Phone :041-521070 / 522670

Fax :520402

Regional Office,Janakpur
Email: janakpur.ro@adbl.gov.np

Map

Saptari
Rajbiraj Branch

Phone :031-520203 / 520485

Fax :520247

Regional Office,Rajbiraj
Email: rajbiraj.ro@adbl.gov.np

Map

Morang
Regional Office Biratnagar

Phone :021-525338 / 527086

Fax :524282

Regional Office,Biratnagar
Email: biratnagar.ro@adbl.gov.np

Map

Rolpa
Rolpa Branch

Phone :086-449117

Fax :

Rolpa
Email: rolpa.branch@adbl.gov.np

Map

Pyuthan
Pyuthan

Phone :086-420011

Fax :420011

Pyuthan
Email: pyuthan.branch@adbl.gov.np

Map

Dang
Narayanpur Branch

Phone :082-560351

Fax :560351

Narayanpur, Dang
Email: narayanpur.branch@adbl.gov.np

Map

Dang
Ghorahi

Phone :082-560242

Fax :560188

Ghorahi, Dang
Email: ghorahi.banking@adbl.gov.np

Map

Dang
Gadawa Branches

Phone :082-540139

Fax :540139

Gadawa, Dang
Email: gadhawa.branch@adbl.gov.np

Map

Dang
Ghorahi Branch

Phone :

Fax :

Ghorahi, Dang
Email: ghorahi.branch@adbl.gov.np

Map

Dang
Tulsipur Branch

Phone :082-520003 / 520004

Fax :520166

Dang
Email: tulsipur.branch@adbl.gov.np

Map

Dang
Lamahi Branch

Phone :082-540412 / 540032

Fax :540160

Lamahi, Dang

Map

Mustang
Jomsong Branch

Phone :069-440106

Fax :

Mustang
Email: jomsom.branch@adbl.gov.np

Map

Myagdi
Beni Branch

Phone :069-520166

Fax :520166

Myagdi
Email: beni.branch@adbl.gov.np

Map

Parbat
Huwas Branch

Phone :067-420670

Fax :

Parbat
Email: huwas.branch@adbl.gov.np

Map

Parbat
Kusma Branch

Phone :067-420166

Fax :420547

Parbat
Email: kusma.branch@adbl.gov.np

Map

Baglung
Hatiya Branch

Phone :068-521125

Fax :

Baglung
hatiya.branch@adbl.gov.np

Map

Baglung
Baglung Branch

Phone :068-520286

Fax :520166

Baglung
Email: baglung.branch@adbl.gov.np

Map

Manang
Manang Branch

Phone :066-440166

Fax :

Manang
Email: manang.branch@adbl.gov.np

Map
| District | ATM Location | More Details | View Map |
| --- | --- | --- | --- |
Quarterly Report
Annual Report
संचालक समिति
board of directors