Citizens Bank International Ltd.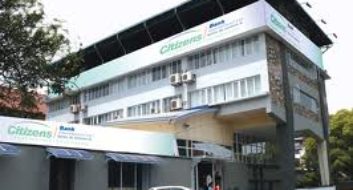 Massive changes and developments have taken place during the past two decades in the financial sector. Amidst all these changes, for economic growth and development of New Nepal, Liberalization, Privatization and Globalization in this sector has given birth to the largest commercial bank, "Citizens Bank International Ltd". The Bank is located at Sharada Sadan, Kamaladi, Kathmandu, the heart of financial sector of the country.It is promoted by eminent personalities/business and industrial houses and reputed individual having high social standing. It is managed by a team of experienced bankers and professionals.
Vision
To be the leading bank known for its service excellence in the region.
Mission
To be a trustworthy partner for the progress of individuals and institutions by designing, producing and delivering the best financial solutions.The Bank will constantly strive to inculcate in its services five corporate values as follows:
Customer Focus
We are committed to meet the financial needs of our customers and exceed their expectations through innovative solutions.
Service Excellence
We promise to deliver customer centered products and services par excellence.
Human Resource
We employ bright, honest, helpful and pleasant people. We nurture and empower them to achieve their full potential.
Corporate Governance
We believe in being accountable, conducting business ethically and maintaining transparency.
Social Responsibility
We are committed to take social initiatives for the development of the nation.
SAVINGS ACCOUNT
FIXED DEPOSIT ACCOUNT
| Scheme Name | Interest % p.a. [/upto] | Minimum Deposit (NPR) | View Detail |
| --- | --- | --- | --- |
Local Agent/
Payment Partners
Location
Contact
Inquiry
Remitance Link
No Remittance Agents
District
Branch Location
Contact No.
More Details
View Map
Jhapa
Damak Branch

Phone :023-582878, 023-582879

Fax :023-582880

Damak Branch
Damak-11, Thana Road
EMAIL: damak@ctznbank.com


Map

Mahottari,
Gaushala Branch

Phone :044-556156, 556157

Fax :044-556158

Gaushala Branch
Gaushala bazaar,Mahottari,Nepal
EMAIL: gaushala@ctznbank.com


Map

Kavre
Banepa Branch

Phone :011-660967

Fax :011-660968

Banepa Branch
Address: Banepa Municipality-10,
Kavre
Email: banepa@ctznbank.com


Map

Sunsari
Dharan Branch

Phone :025-533779/533801

Fax :025-533643

Dharan Branch
Putaliline, Dharan -9,
Sunsari, Nepal
EMAIL: dharan@ctznbank.com


Map

Bhojpur
Bhojpur Branch

Phone :029-420729

Fax :029-420719

Bhojpur Branch
Address: Bank Road ,
Bhojpur Municipaltiy-7, Bhojpur
EMAIL: bhojpur@ctznbank.com


Map

Bardiya
Sanoshree Branch

Phone :084-440376/77

Fax :084-440378

Sanoshree Branch Sanoshree-03, Kusumba Bazar Bardiya EMAIL: sanoshree@ctznbank.com

Map

Bajhang
Bajhang Branch

Phone :092-421377

Fax :092-421378

Bajhang Branch
Chainpur,Bajhang
EMAIL: bajhang@ctznbank.com


Map

Kanchanpur
Mahendranagar Branch

Phone :099-520485/486

Fax :099-520487

Mahendranagar Branch
Bheemdatta Municipality-4
(Nearby Buspark),
Mahendranagar, Kanchanpur
EMAIL:mahendranagar@ctznbank.com


Map

Kailali
Dhangadhi Branch

Phone :091-527485/86

Fax :091-527487

Dhangadhi Branch
Main Road,Dhangadhi-4,
Kailali
EMAIL: dhangadhi@ctznbank.com


Map

Humla
Simikot Branch

Phone :087680206

Fax :087-680205

Simikot Branch
Simikot-2, Mathilo Bazaar,
Humla
EMAIL: simikot@ctznbank.com


Map

Jajarkot
Jajarkot Branch

Phone :089-430175

Fax :089-430071

Jajarkot Branch
Khalangawa Bazar,
Jajarkot
EMAIL: jajarkot@ctznbank.com


Map

Jumla
Jumla Branch

Phone :087-520586

Fax :087-520587

Jumla Branch Chandannath vdc-07, Jumla EMAIL: jumla@ctznbank.com

Map

Dolpa
Dolpa Branch

Phone :087-550189/190

Fax :087-550073

Dolpa Branch
Dunai Bazar, Dolpa
EMAIL: dolpa@ctznbank.com


Map

Surkhet
Surkhet Branch

Phone :083-520850/51

Fax :083-520835

Surkhet Branch
Sunny Hall Line, Surkhet-6
EMAIL: surkhet@ctznbank.com


Map

Banke
Nepalgunj branch

Phone :081-527471/72/73

Fax :81-527474

Nepalgunj Branch P.O.Box-21, Dhambouji Chowk, Nepalgunj-2 Banke EMAIL: nepalgunj@ctznbank.com

Map

Dang
Ghorahi Branch

Phone :082 - 563307/09

Fax :082 - 563308

Ghorahi Branch
New Road -11, Ghorahi, Dang
EMAIL: ghorahi@ctznbank.com


Map

Myagdi
Beni Branch

Phone :069-521019

Fax :069-521019

Beni Branch
New Road 1, Beni Bazar,
Myagdi
EMAIL: beni@ctznbank.com


Map

Kaski
Pokhara Branch

Phone :061-527083, 061-527084

Fax :061-527089

Pokhara Branch
P.O. Box No. : 262, New Road,
Pokhara-9, Kaski
EMAIL: pokhara@ctznbank.com


Map

Baglung
Baglung Branch

Phone :068-522992/93

Fax :068-522994

Baglung Branch
Bal Mandir Road,
Baglung
EMAIL: baglung@ctznbank.com


Map

Nawalparasi
Butwal Branch

Phone :071-540681/82

Fax :071-540782

Butwal Branch Amarpath Line EMAIL: butwal@ctznbank.com

Map

Rupandehi
Siddharthanagar Branch

Phone :071-521163/64

Fax :071-521165

Siddharthanagar Branch
Bank Road,
Siddharthanagar (Bhairahawa), Rupandehi
EMAIL: siddharthanagar@ctznbank.com


Map

Chitwan
Narayanghat Branch

Phone :056-571111/12

Fax :56-571113

Narayanghat Branch Lions Chowk,Bharatpur-4,Chitwan EMAIL: narayanghat@ctznbank.com

Map

Parsa
Birgunj Branch

Phone :051-520782, 051-527982, 051-533699

Fax :051-530633

Birgunj Branch Adarsha Nagar Chowk,Main Road Birgunj-7,Parsa EMAIL:birgunj@ctznbank.com

Map

Bara
Pathalaiya Branch

Phone :053 52188

Fax :

Pathalaiya Branch
Pathalaiya,
Pipra Simra - 9, Bara
EMAIL: pathalaiya@ctznbank.com


Map

Bara
Kolhabi Branch

Phone :053-410030, 410031

Fax :053-410032

Kolhabi Branch Kolhabi, Bara EMAIL: klhabi@ctznbank.com

Map

Barai
Nijgadh Branch

Phone :053-540480/81

Fax :053-540482

Nijgadh Branch
Nijgadh, Barai
EMAIL: nijgadh@ctznbank.com


Map

Makwanpur
Hetauda Branch

Phone :057-527306/ 527296

Fax :057-527309

Hetauda Branch
Parijat Path, Hetauda-4
Makwanpur
EMAIL: hetauda@ctznbank.com


Map

Dolakha
Charikot Branch

Phone :049-421926, 977-049-421927

Fax :049-421928

Charikot Branch Bhimeshwor Municiplicity-10, Beech Bazzar, Dolakha TEL:977-049-421926, 977-049-421927 FAX:977-049-421928 EMAIL: charikot@ctznbank.com

Map

Janakpur
Janakpur Branch

Phone :041-528581/582

Fax :041-528583

Janakpur Branch BhanuChowk-2, Janakpur EMAIL: janakpur@ctznbank.com

Map

Udayapur
Gaighat Branch

Phone :035 421330/31

Fax :035 - 421332

Gaighat Branch Triyuga Municipality-02, Gaighat , Udayapur EMAIL: gaighat@ctznbank.com

Map

Sunsari
Itahari Branch

Phone :025-580665

Fax :025-580596

Itahari Branch
Itahari-1, Dharan road,
Sunsari.
EMAIL: itahari@ctznbank.com


Map

Morang
Biratnagar Branch

Phone :021-440501/2/3

Fax :21-440504

Biratnagar Branch
P.O. Box 26, Dharan Road-8,
Biratnagar,Morang
EMAIL: biratnagar@ctznbank.com


Map

Jhapa
Birtamod Branch

Phone :023-540255 , 544750

Fax :023-544751

Birtamod Branch Kakadvitta Road,Anarmani VDC-3,Birtamod, Jhapa EMAIL: birtamod@ctznbank.com

Map

Kathmandu
Bhaisepati Branch

Phone :01-5592709, 01-5592764

Fax :5592697

Bhaisepati Branch
Bhaisepati, Kathmandu
EMAIL: bhaisepati@ctznbank.com


Map

Kathmandu
Chabahil Branch

Phone :01-4481683,01-4482391

Fax :

Chabahil Branch
Kumari Building, Chabahil
Kathmandu
EMAIL: chabahil@ctznbank.com


Map

Kathmandu
New Baneswore Branch

Phone :016200341,01-4783299

Fax :01-4783289

New Baneswore Branch
Shankhamul Marg, New Baneshwor
, Kathmandu
EMAIL: newbaneshwor@ctznbank.com


Map

Kathmandu
Mahaboudha branch

Phone :01-4225115

Fax :01-4225115

MahaBoudha Branch
Mahaboudha, Kathmandu
EMAIL: mahaboudha@ctznbank.com


Map

Kathmandu
Kuleshwor

Phone :014671214, 014671215

Fax :014281743

Kuleshwor Branch
Agni Complex, 2nd floor
Kuleshwor, Kathmandu
EMAIL: kuleshwor@ctznbank.com


Map

Kathmandu
Dillibazar Branch

Phone :01-4430528,4430838

Fax :

Dillibazar Branch
Batuleghar, Kathmandu
EMAIL: dillibazar@ctznbank.com


Map

Kathmandu
Thapathali Branch

Phone :01-4100578

Fax :01-4100577

Thapathali Branch
Thapathali, Kathmandu
EMAIL: thapathali@ctznbank.com


Map

Kathmandu
Samakhusi

Phone :01-4356557,01-4357681

Fax :4359942

Samakhusi Branch
Samakhusi, Kathmandu
EMAIL: samakhusi@ctznbank.com


Map

Bhaktapur
Thimi Branch

Phone :01-6636534/ 535

Fax :01-5639973

Thimi Branch Bayakha Bazar 7, Thimi, Bhaktapur EMAIL: thimi@ctznbank.com

Map

Bhaktapur, Durbar Square Area
Bhaktapur Branch

Phone :01-6612061/654

Fax :01-6612487

Bhaktapur Branch
Durbar Square Area,
Khauma-15,
Bhaktapur
EMAIL: bhaktapur@ctznbank.com


Map

Lalitpur
Patan Dhoka branch

Phone :01-5004521 / 4520

Fax :01-5525022

Patan Dhoka branch
Chayabahal-21, Lalitpur
EMAIL: patan@ctznbank.com


Map

Kathmandu
Kumaripati Branch

Phone :01-5551020 , 01-5551050, 01-5551040

Fax :01-5550840,

Kumaripati Branch
Lalitpur-5,Kumaripati,
Kathmandu
EMAIL:kumaripati@ctznbank.com


Map

Kathmandu
Kirtipur

Phone :01 4335556

Fax :01 - 4335839

Kirtipur Branch Naya Bazar 17, Kirtipur, Kathmandu EMAIL: kirtipur@ctznbank.com

Map

Kathmandu
Kalanki Branch

Phone :01-4286534/36

Fax :01-4286465

Kalanki Branch
Ganesh Man Singh Marg, br>(Near Kalanki Mandir),Kathmandu
EMAIL: kalanki@ctznbank.com


Map

Kathmandu
Nayabazar Branch

Phone :01-4388601, 01-4388607

Fax :01-4388499

Nayabazar Branch V.S. Complex, Sohrakhutte, Nayabazar, Kathmandu EMAIL: nayabazar@ctznbank.com

Map

Kathmandu
Thahiti

Phone :01-4216027/93

Fax :4216109

Thahity Branch
Thahiti Chowk,
Thahiti, Kathmandu
EMAIL: thahiti@ctznbank.com


Map

Kathmandu
Maitidevi branch

Phone :01-4423537,4436720

Fax :01-4437223

Maitidevi Branch
Setopul, Maitidevi, Kathmandu
EMAIL: maitidevi@ctznbank.com


Map

Kathmandu
Narayan Gopal Chowk Branch

Phone :4017591,4374720

Fax :01 - 4375833

Narayan Gopal Chowk Branch
Narayan Gopal Chowk
, Maharajgunj, Kathmandu
EMAIL: narayangopalchowk@ctznbank.com


Map

Kathmandu
Koteshwor

Phone :01-4601510,4601501

Fax :01-4601523

Koteshwor Branch
Koteshwor, Kathmandu
EMAIL: koteshwor@ctznbank.com


Map

Kathmandu
Kapan branch

Phone :977-01-4822811/812

Fax :01-4822810

Kapan Branch
Saraswatinagar 6, Kapan Marg,
Kapan, Kathmandu
EMAIL: kapan@ctznbank.com


Map

Kathmandu
Bouddha branch

Phone :01-4915020,4915640

Fax :01-4915054

Bouddha Branch
Jorpati -3, Bouddha,
Kathmandu
EMAIL:boudha@ctznbank.com


Map

Sunsari
Dharan Branch

Phone :025-530213/245

Fax :025-525983

Putaliline - 9, Dharan, Sunsari

Map

Kailali
Dhangadi Branch

Phone :091-522472/73

Fax :091-522474

Sabjimandi, Mainroad Dhangadi, Kailali

Map
District
ATM Location
More Details
View Map
Kavre
Banepa
Chandani Chowk
Banepa, Kavre
011-660967

Map

Bara
Nijgadh
Sahid Chowk
Nijgadh-7, Bara
053-540480/81

Map

Sunsari
Dharan
Putaliline
Dharan -9, Sunsari
025-533779

Map

Bardiya
Sanoshree
Sanoshree-03, Bardiya
084-440376/77

Map

Bara
Kolhabi
Kolhabi Bara
053-410030/31

Map

Jumla
Jumla
Chadannath VDC-07
087-520586

Map

Rupandehi
Siddharthanagar
Bank Road, Siddharthanagar
071-521163/64

Map

Makwanpur
Hetauda
Parijatpath
057-527306

Map

Surkhet
Surkhet
Sunny Hall Line
083-520850/51

Map

Dhanusa
Janakpur
Bhanu Chowk
041-528581/82

Map

Sunsari
Itahari
Dharan Road, Itahari
025-580665

Map

Dolakha
Charikot
Beech Bazar, Charikot
049-421926/27

Map

Kanchanpur
Mahendranagar
Near Buspark, Mahendranagar
099-520485/86

Map

Udayapur
Gaighat
Gaighat Bazar
035-421330/31

Map

Dang
Ghorahi
New Road, Ghorahi
082-563307/09

Map

Myagdi
Beni
New Road
Beni Bazar
069-521019

Map

Jhapa
Birtamod
Kakadvitta Road
023-540255

Map

Dhangadi
Dhangadi
Dhangadi, Main Road
091-527485/86

Map

Rupandehi
Butwal
Pushpalal Park
071-540681/82

Map

Chitwan
Narayanghat
Lions Chowk , Narayanghat
056-571111/12

Map

Banke
Nepalgunj
Dhambouji Chowk
081-527471/72/73

Map

Kaski
Pokhara
Naya Sadak
061-527083/84

Map

Parsa
Birgunj
Adarsha Nagar Chowk
051-520782

Map

Morang
Biratnagar
Dharan Road
021-440501/2/3

Map

Kathmandu
Chabahil
Kumari Building
Mitrapark, chabahil
01-4481683/4482391

Map

Kathmandu
New Baneshwor
Shankhamul Marg
New Baneshwor, Kathmandu
016200341

Map

Kathmandu
Samakhusi
Samakhusi, Kathmandu
01-4356557

Map

Bhaktapur
Sallaghari
Sallaghari, Bhaktapur
01-6612061

Map

Kathmandu
Bhatbhateni
Bhatbhateni
01-4169067/68

Map

Kathmandu
Battisputali
Battisputali, Kathmandu
01-4423537

Map

Lalitpur
Dhapakhel
GEMS, Dhapakhel
01-5551020/50/40

Map

Lalitpur
Patan
Chayabahal
01-5004521/20

Map

Bhaktapur
Bhaktapur
Durbar Square Area, Kha
01-6612061

Map

Bhakatapur
Thimi
Bayakha Bazar, Thimi
01-6636534/35

Map

Kathmandu
Kapan
Saraswotinagar, Kapan
01-4822811/812

Map

Kathmandu
Naryan Gopal Chowk
Naryan Gopal Chowk
01-4375044

Map

Kathmandu
Kirtipur
Nayabazar, Kirtipur
01-4335556

Map

Kathmandu
Maitidevi
Seto Pul-Maitidevi
01-4423537

Map

Kathmandu
Nayabazar
V.S Complex, Sohrakhutte
01-4388601

Map

Kathmandu
Thaihiti
Thaihiti Chowk
01-4216027/93

Map

Kathmandu
Kalanki
Ganesh Man Singh Marga
01-4286536/34

Map

Kathmandu
Koteshwor
Koteshwor
01-4601510

Map

Lalitpur
Kumaripati
Kumaripati
01-5551020/50/40

Map

Kathmandu
Newroad
Basantapur
01-4223979/4220948

Map

Kathmandu
Boudha
Jorpati
01-4915020

Map

Kathmandu
Kamaladi
Kamaladi
01-4169067/68

Map
Quarterly Report
Annual Report
संचालक समिति
board of directors

Dr. Shankar Prasad Sharma
Chairman

Mr. Bal Krishna Prasai
Director

Mr. Manohar Das Mool
Director

Mr. Prakash Chandra Mainali
Public Director

Mr. Pavitra Kumar Karki
Director

Mr. Bijaya Dhoj Karki
Public Director

Dr. Chanda Karki
Director

Mr. Chandra Tandan
Director
Mr. Rajan Singh Bhandari
CEO