Jyoti Bikas Bank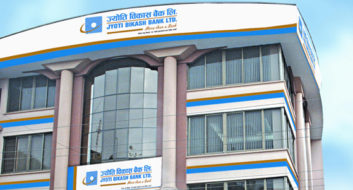 Jyoti Bikash Bank Ltd. (JBBL) is a National Level Development Bank licensed by Nepal Rastra Bank and has started its operation from 9th Shrawan 2065 ( 24 July, 2008). JBBL is established with a primary focus on financing for the development of Hydropower and Infrastructure and providing banking facilities to the general public for various purposes. JBBL aims to serve wide range of customers with its unique customer- oriented quality services.
Vision:
To become one of the leading and dedicated banks with unique identity.
Strategy:
Growth through enhancement of paid up capital.
Maximum utilization of the technical expertise of the Bank for project finance.
Focus on creating wider customer base.
Introduce electronic banking to up-grade banking service to the customers.
Enhance network through new branch and ATM service.
Diversification of lending portfolio.
Research and Development of new innovative products and services to cater the need of the market.
SAVINGS ACCOUNT
FIXED DEPOSIT ACCOUNT
| Scheme Name | Interest % p.a. [/upto] | Minimum Deposit (NPR) | View Detail |
| --- | --- | --- | --- |
Local Agent/
Payment Partners
Location
Contact
Inquiry
Remitance Link
No Remittance Agents
District
Branch Location
Contact No.
More Details
View Map
Tanahu
Devghat Ext. Counter

Phone :056-621265

Fax :

Devghat, Tanahu

Map

Banke
Kohalpur Branch

Phone :081-541437

Fax :081-541436

Kohalpur, Banke

Map

Jajarkot
Jajarkot Branch

Phone :089-430281

Fax :089-430282

Khalanga, Jajarkot

Map

Banke
Nepalgunj Branch

Phone :081-528091, 528092

Fax :081- 528093

Nepalgunj, Banke

Map

Kaski
Pokhara Branch

Phone :061-537960/537961

Fax :061-537962

New Road, Kaski

Map

Morang
Biratnagar Branch

Phone :021-527775

Fax :021-527776

Rangeli Road, Morang

Map

Chitwan
Bharatpur Branch

Phone :056-525726/525727

Fax :056-525716

Bharatpur, Chitwan

Map

Khotang
Diktel Branch

Phone :036-420611

Fax :036-420613

Diktel, Khotang

Map

Parsa
Birgunj Branch

Phone :051-524836, 524837

Fax :051-524840

Birgunj, Parsa

Map

Morang
Pathari Branch

Phone :021-555482

Fax :021-555483

Pathari, Morang

Map

Rautahat
Chapur Branch

Phone :055-540758/540759

Fax :055-540760

Chapur, Rautahat

Map

Bara
Simara Branch

Phone :053-521856, 521857

Fax :053-521859

Simara, Bara

Map

Mahottari
Bardibas Branch

Phone :044-550568, 550566

Fax :044-550567

Bardibas, Mahottari

Map

Rupandehi
Butwal Branch

Phone :071-550834,550836

Fax :071-550535

Butwal, Rupandehi

Map

Kathmandu
New Road Branch

Phone :01-4244578, 4263679

Fax :01-4260799

Ranjana Galli
New Road, Kathmandu

Map

Kathmandu
Balaju Branch

Phone :01-4388856

Fax :014388859

Balaju, Kathmandu

Map

Kathmandu
New Baneshwor Branch

Phone :01-4462551, 01-4462552

Fax :01-4460895

Karmacharya Plaza
New Baneshwor, Kathmandu

Map

Kathmandu
Sundhara Branch

Phone :01-4233034, 01-4233035

Fax :01-4233032

Sundhara, Kathmandu

Map

Bhaktapur
Chyamasingh Branch

Phone :01-6619910, 01-6619920

Fax :01-6619930

Chyamasingh, Bhaktapur

Map

Kathmandu
Saraswatinagar Branch

Phone :4822330, 4822331

Fax :4822332

Chabahil, Kathmandu

Map

Lalitpur
Prayagpokhari Branch

Phone :01-5551437/5551438

Fax :01-5551439

Prayagpokhari, Lalitpur

Map

Kathmandu
Ason Branch

Phone :01-4216198, 4216154

Fax :01-4216242

Ason, Kathmandu

Map

Kathmandu
Jorapati Branch

Phone :01-4912710/4913931

Fax :01-4912320

Jorpati, Kathmandu

Map

Kathmandu
Koteshwor Branch

Phone :01-4601979/4601973/4600744

Fax :01-4601985

Koteshwor, Kathmandu

Map

Kathmandu
Corporate Office & Banking Office

Phone :01-4411116,01-4427550, 01-4168605/606/607

Fax :01-4442192, 01-4168581

Kamaladi, Kathmandu
info@jbbl.com.np

Map
District
ATM Location
More Details
View Map
Tanahu
Devghat
Devghat, Tanahu
Tel: 056-621265


Map

Kathmandu
New Road
Ranjana Galli,
New Road, Kathmandu
Tel No.: 01-4244578, 4263679
Fax No.: 01-4260799


Map

Banke
Kohalpur
Kohalpur, Banke
Tel No.: 081-541437
Fax No.: 081-541436


Map

Kathmandu
Balaju
Balaju, Kathmandu
Tel No.: 01-4388856
Fax No.: 014388859


Map

Kathmandu
New Baneshwor
Karmacharya Plaza,
New Baneshwor, Kathmandu
Tel No.: 01-4462551, 01-4462552
Fax: 01-4460895


Map

Jajarkot
Khalanga
Khalanga, Jajarkot,
Tel : 089-430281
Fax : 089-430282


Map

Banke
Nepalgunj
Nepalgunj, Banke
Tel : 081-528091, 528092
Fax: 081- 528093


Map

Kaski
New Road
New Road, Kaski
Tel : 061-537960/537961
Fax : 061-537962


Map

Kathmandu
Sundhara
Sundhara, Kathmandu
Tel: 01-4233034, 01-4233035
Fax: 01-4233032


Map

Morang
Rangeli Road
Rangeli Road, Morang
Tel: 021-527775
Fax: 021-527776


Map

Chitwan
Bharatpur
Bharatpur, Chitwan
Tel: 056-525726/525727
Fax: 056-525716


Map

Khotang
Diktel
Diktel, Khotang
Tel: 036-420611
Fax: 036-420613


Map

Bhaktapur
Chyamasingh
Chyamasingh, Bhaktapur
Tel: 01-6619910, 01-6619920
Fax: 01-6619930


Map

Parsa
Birgunj
Birgunj, Parsa
Tel: 051-524836, 524837
Fax: 051-524840


Map

Kathmandu
Chabahil
Chabahil
(Behind Gopikrishna Hall),
Kathmandu Tel: 4822330, 4822331
Fax: 4822332


Map

Morang
Pathari
Pathari, Morang
Tel: 021-555482
Fax: 021-555483


Map

Lalitpur
Prayagpokhari
Prayagpokhari, Lalitpur
Tel: 01-5551437/5551438
Fax : 01-5551439


Map

Rautahat
Chapur
Chapur, Rautahat
Tel: 055-540758/540759
Fax : 055-540760


Map

Kathmandu
Ason
Ason, Kathmandu
Tel: 01-4216198, 4216154
Fax: 01-4216242
Tel: 01-4216198, 4216154
Fax: 01-4216242


Map

Bara
Simara
Simara, Bara
Tel: 053-521856, 521857
Fax: 053-521859


Map

Kathmandu
Jorpati
Jorpati, Kathmandu
Tel: 01-4912710/4913931
Fax: 01-4912320


Map

Kathmandu
Koteshwor
Koteshwor, Kathmandu
Tel: 01-4601979/4601973/4600744
Fax: 01-4601985


Map

Mahottari
Bardibas
Bardibas, Mahottari
Tel: 044-550568, 550566
Fax: 044-550567


Map

Rupandehi
Butwal
Butwal, Rupandehi
Tel: 071-550834,550836
Fax: 071-550535


Map

Kathmandu
Kamaladi
Kamaladi, Kathmandu
Hunting Line : 01-4411116,01-4427550
Kathmandu Plaza: 01-4168605/606/607
Fax : 01-4442192, 01-4168581
Email : info@jbbl.com.np


Map

Mahottari
Bardibas
Bardibas, Mahottari
Bank Premises,
Near Micro-Bus Station


Map

Rupandehi
Rupandehi
Amarpath, Bank Premises,
Rupandehi
Near Hatbazar


Map

Banke
Kohalpur
Kohalpur, Banke
Bank premises


Map

Kathmandu
Balaju
Balaju, Kathmandu
opp. of Rastriya Banijya Bank


Map

Kathmandu
New Baneshwor
New Baneshwor,
Kathmandu
Karmacharya Plaza


Map

Kathmandu
Kamaladi
Kamaladi, Hattisar,
Kathmandu


Map

Chitwan
Bharatpur

Map

Lalitpur
Lagankhel

Map

Kathmandu
Ratnapark

Map
Quarterly Report
Annual Report
संचालक समिति
board of directors

Mr. Dhruba Koirala
Chairman

Mr. Ram Kumar Shrestha
Director

Mr. Hari Chandra Khadka
Director

Mr. Hari Prasad Acharya
Director

Mr. Narayan Prasad Poudyal
Director

Mr. Pankaj Neupane
Director

Mr. Krishna Bahadur Kunwar
CEO